With decades of experience providing a full range of security and security guarding services for the building industry, at Titan Security we like to think we are leading the way with our expert construction site security services both in the UK and right across Europe.
Building on the lessons we have learned from years of experience, we know a thing or two about how to secure a building site. In this post we would like to pass some of that knowledge on to you. So read on for some of those essential tips and tricks on securing your building site as well as an introduction to our broad range of security guard services for the construction industry.
Why does a construction site need to be secured?
By its very nature, a construction site inevitably becomes a store for valuable tools, machinery and materials. The larger the site, the more this becomes an issue due to the physical area that needs to be secured and the complexity of guarding it. But in truth, loss by theft from any construction site large or small can be a costly burden to the site operator and any sub-contractors working there as well as a huge inconvenience.
Does improving construction site security need to be expensive?
Before we get into this it is important to point out that theft of material, tools and equipment from a building site or even leaving your site vulnerable to vandalism and graffiti will definitely turn out to be expensive. Investment in site security will have paid for itself many times over if it makes life difficult or impossible for the opportunist criminal.
Related content: 7 reasons why construction site security is a good investment
The good news is that there are several things you can do to make your construction site more secure that involve little or no outlay. So let's look at some simple construction site security procedures you can put in place:
Inexpensive Construction Site Security Tips
1. Know who is on your building site at all times
Even a small building site can be a busy place with lots of people coming and going throughout the day. Ideally you need a way to instantly spot those that are authorised to be there and as a result, be in a position to easily identify unauthorised access.
Have a system for logging people in and out of the site
Issue clip on identity cards to be worn visibly at all times
Consider supplying company branded hard hats to be worn on your site
2. Disable and immobilise
Unless you are operating on a 24 hour a day basis it is inevitable that construction vehicles and machinery are going to be left overnight. Making sure that ignition keys are securely locked away and even taking actions like removing ignition leads that will immobilise vehicles will cost little more than some time and effort.
3. Anchoring your machinery.
With larger machines that cannot simply be locked away, using a good quality chain and a secure padlock to anchor them to something immovable is always a good idea.
4. Make use of lighting
There is no doubt that thieves and criminals prefer to work under cover of darkness. Keeping your site brightly lit is an effective deterrent. Opportunist criminals are looking for weaknesses in your security and when not immediately obvious, they are likely to move on and try to find and easier target.
5. Lock it away
Fenced compounds and secure storage containers. Containers made of impenetrable steel, often windowless and with strong locking mechanisms are the best way to store valuable machinery, tools and materials. Shipping containers are excellent when used like this and not too expensive to get hold of. Fenced, gated and locked compounds are great for storing chemicals, spare scaffolding and larger, heavier items.
6. Think security
Making sure that there is nothing left around your building site that might be useful to a criminal should become second nature. Taking ladders and step ladders down and locking them up when leaving a construction site unmanned seems obvious. But it always surprises us how when during a security assessment, we discover that this is not being done.
7. Use of induction and training
With new procedures in place they are only going to work well if everyone knows about them and is aware of their own responsibility for contributing to your building site security. Make sure that employees and sub-contractors understand your site security procedures and controls before starting work on your site.
Documenting them and handing everyone a printout is also a good idea. Make sure that your security procedures are consistently enforced by assigning someone with supervisory authority to oversee them. It is all too easy to become complacent and of course, security complacency is an open invitation to a thief.
Physical security measures that are a worthwhile investment
Often main building contractors will engage the services of a specialist security company like Titan Security to assess security risks on a building site, produce a strategic plan and supply a range of services to mitigate any issues identified.
As part of a strategic security plan we will always consider, advise on and even supply everything needed to enhance the physical security of a construction site. Here are some of our most common recommendations.:
1. Barrier Fencing
One of the first and simplest measures to secure a construction site is to implement physical protection. This is normally achieved through installation of adequate barrier fencing around the perimeter. This makes it difficult to enter the site or remove materials from it.
Security barrier fencing will conduct all traffic on foot or vehicular, to a single point of entry that will be constantly monitored to make sure that all access is authorised access. Entry barriers or gates are often managed by a revolving team of specialist static security guards on a 24 hour basis.
Tight woven mesh security fencing is oe of the best fencing systems for site security. If high enough to meet safety regulations, anti-climb features like spikes can be incorporated at the top of the fencing.
Hoarding is often used as a security measure. It consists of solid wood or metal panels that prevent passers by from being able to look into the sight. This type of barrier can be installed using a concrete foundation but can also be mounted a block and bolt system when a a concrete foundation is impractical.
2. Lighting.
A construction site that is flooded with bright light is much less likely to become a target for thieves. It also means that security monitoring and patrolling is a much more practical proposition. As your site grows you need to continually reassess it to make sure that no dark areas have been created by new buildings.
4. Clear Signage
Signage distributed around a perimeter usually by mounting it on a perimeter fence to indicate that a site is guarded by security personnel and / or video surveillance is a serious and effective deterrent. At Titan we can assess your security signage needs, supply standards compliant security warning signs and produce a plan for optimal placement.
5. Surveillance Cameras and Alarms
Surveillance cameras that can record footage and trigger an alarm are a useful addition to construction site security. These can be monitored internally by static security staff or linked to a central control room.
CCTV surveillance has been made much easier and more effective as the internet has developed. It is now possible to monitor feeds from a remote location over the internet. At Titan Security, we are often engaged to provide CCTV monitoring services as well as being tasked with either contacting local law enforcement and / or sending out one of our rapid response mobile security patrols to respond to security alarm triggers.
Titan Security Experts are always available to assess your construction site security needs. Get in touch today.
Manned Guarding Services from Titan Security
Static Security Guarding
Here at Titan Security we employ vetted and highly-trained security guards ready to work around the clock to supervise security on construction sites large or small.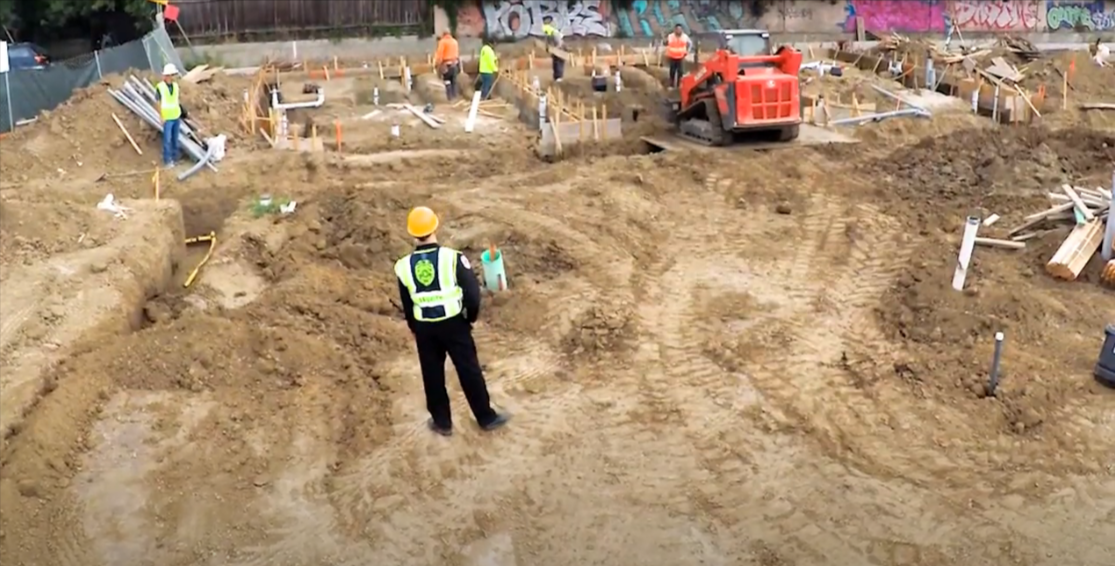 Our staff can monitor access points like gates and barriers to ensure that any access is authorised. It is worth remembering building sites are also vulnerable to internal security threats such as theft carried out by people authorised to work there. Security guarding may include checking employees, sub-contactors and vehicles as they leave.
This requires personnel that have been trained to carry out these checks with tact and diplomacy. We often employ ex-services personnel because they have wide ranging experience on just this sort of task. The same applies when controlling access. Not everyone likes to be questioned and it takes a particular level of training to do this with minimal risk of causing offence.
Static security staff will normally also patrol the site, check on physical security to identify possible breaches and provide a visible deterrent to anyone that may be considering illegal entry. As a site grows, security patrolling becomes more complex. Scaffolding, storage containers and the like mean there are more areas and dark corners to provide cover for anyone that has managed to get inside. Our staff can go where surveillance cameras cannot
Remote Centrally Controlled Monitoring Systems
Being flexible enough to tailor the services we provide to meet differing levels of need, means that we can find the most cost-effective solution to construction site security.
We have the technical expertise to design alarm and remote monitoring systems that provide a service to suit all budgets. There are solutions ranging from alarms that trigger high-decibel warnings through to alarms and surveillance cameras that can be consistently monitored in a central control room.
These are used in conjunction with our mobile security patrols to provide a rapid reaction when a triggering event occurs
Mobile Security Patrols
Normally used in conjunction with alarms and camera surveillance, our mobile security services stand by ready to react immediately in the event of an alarm being triggered.
In addition to rapid reaction duties we can provide security patrols that will monitor a construction site during vulnerable times such as after dark. We can work to a regular schedule or make ad hoc visits that do not adhere to fixed routine.
Our Officers do not merely carry out a drive-by inspection. They are trained to leave the vehicle and make a detailed inspection of the site perimeter to inspect for signs of breach or unauthorised access.
Security Dog Guarding
On large and sprawling construction sites it is very difficult to cover all of the security angles. Fortunately, a guard dog with its heightened senses can often detect when something is not right and sound the alarm far more quickly than a human can.
Dogs can also cover a lot of ground quickly. And with a loud bark, alerting the handler is one outcome the other being that anyone intruding on a site and disturbing a guard dog is likely to be exiting it far quicker than when they entered.
We can provide a trained security dog and professionally qualified security guard / dog handler to patrol and maintain security at your building site. Read more about our guard dog security services here.
Working with Titan to Secure your Construction Site
Working out how best to keep a construction site secure is no small matter. A dedicated and vastly experienced security company like Titan Security, involved from planning stage through to implementation is the best way prevent the cost and inconvenience that theft and other illegal activity can cause.
We understand that one size never fits all which is why we work hard to tailor our construction site security services as an exact fit for your needs. This is not only the most efficient way of working with our clients, it is also the most cost-effective.
We will present you with a security audit, a plan and clear, honest pricing so that you can make informed decisions about how you wish to proceed. Titan Security is a trusted and long-established security company with many successful contracts completed for a large range of satisfied private, corporate and government clients
Whether in the UK or anywhere across Europe, ff you have any questions or need some advice why not head on over to our Construction Security Services Page and use the quick contact form to arrange a chat with one of our security experts? An informal chat costs nothing but may save you from a security nightmare.
Contact Us today for a free quote without further obligation