Titan Security are pleased to be able to offer armoured cars for sale as part of our range of security services. Our armoured vehicle range includes a Range Rover, Mercedes Benz and Toyota Land Cruiser. Each car has been fully customised with armour plating, ballistic glass, upgraded suspension systems and upgraded braking systems. Cars can offer up to CEN B7 level protection, IED protection and more. Each car is customisable with additional features including fire suppression systems, blast protection systems, escape hatches, sirens and emergency lights and more. Our cars are used around the world by government's, VIP's and businesses to protect vital personnel.
You can use our quick contact form below to inquire about any of our armoured vehicles. Alternatively read below for detailed specs of each car and upgrade options.
Armoured Range Rover
Base Vehicle Overview
Ballistic armouring constructed of certified material is installed to create a shell within the OEM vehicle for optimal survivability, capable of defeating multiple rounds of 7.62x51mm NATO ammunition (CEN level B6). For clients looking for the highest protection available on a commercial vehicle platform, Titan Security Europe is able to offer the Range Rover up to CEN B7 level to protect against multiple armour piercing rounds.
Body Armouring
We Offer full body armouring level B-6
Vehicle Armouring: Doors & Overlaps
• Ballistic glass offering B-6 level protection
• B-6 over-laps to provide protection from bullets following a linear as well as angular trajectory
• Ballistic steel Bulkhead offering B-6 level protection
Upgraded Suspension & Wheel Assembly
Upgraded Suspension to cater for additional weight of armouring and to enhance vehicular stability.
Slotted discs on all four wheels to enhance heat dissipation thus significantly improving braking performance under hard braking.
20'' wheel assembly including HD tire steel rims and run flat on all wheels.
OPTIONAL EQUIPMENT AND FEATURES:
• Ballistic Radiator protection with
additional intake fan and ram air scoop
• Certified Blast protection against
anti-personnel land mines and IEDs
• Heavy duty operable window actuators
• Automatic fire suppression system
• VHF and HF communication systems
• Battery isolation/kill switch
• Heavy-duty, high output alternators
• Roof Escape Hatch
• Public Address (P/A) system with siren
• Strobe lights
• More options available upon request
ARMOURED MERCEDES BENZ S CLASS
The S Class sedan is the flagship in the Mercedes Benz product range and has always been the pinnacle of innovation and luxury throughout its history. The newest W221 generation is available in a variety of configurations, including the S 400 HYBRID, S 600, and the high performance S63 and S65 AMG.
The cabin is fully armoured with certified B6 level armouring material integrated in the vehicle, rated to defeat ballistic threats up to 7.62x51mm rifle ammunition.
Armoured areas completely cover all four vertical sides (front, left, right, and rear) as well as the roof, including areas such as:
• Doors, pillars and windows • Rear
• Windshield and firewall
• Roof
The vehicle's exterior appearance is not altered after completion of the armoring conversion.
Vehicle Armouring: Doors & Overlaps
Doors are armoured with B6 ballistic glass and steel panels.
Full ballistic overlaps are installed at all four doorways to protect the occupants from attacks at any angle.
In the event of a explosive detonation near the vehicle, the overlaps will also prevent the armoured door from being pushed into the vehicle.
The hinges are reinforced to improve the durability of the armoured vehicle by properly supporting the heavy armoured doors and prevent potential misalignment issues that may create gaps between the door and body.
Chassis Reinforcement
custom designed under body
armouring provides superior blast protection as well as:
• Minimizes body roll and increases downforce and chassis rigidity to improve vehicle handling and stability.
• Deflects water and sand while improving vehicle cooling.
• Decreases fuel consumption
• Reinforced Mercedes Benz OEM suspension system to support the armouring weight while retaining the original advanced features.
• Mercedes Benz OEM brake system is also upgraded to provide OEM stopping distances after armouring.
Interior
To maintain a low profile, the interior of the vehicle also appears to be OEM spec with all luxury equipment remaining fully functional.
Toyota Land Cruiser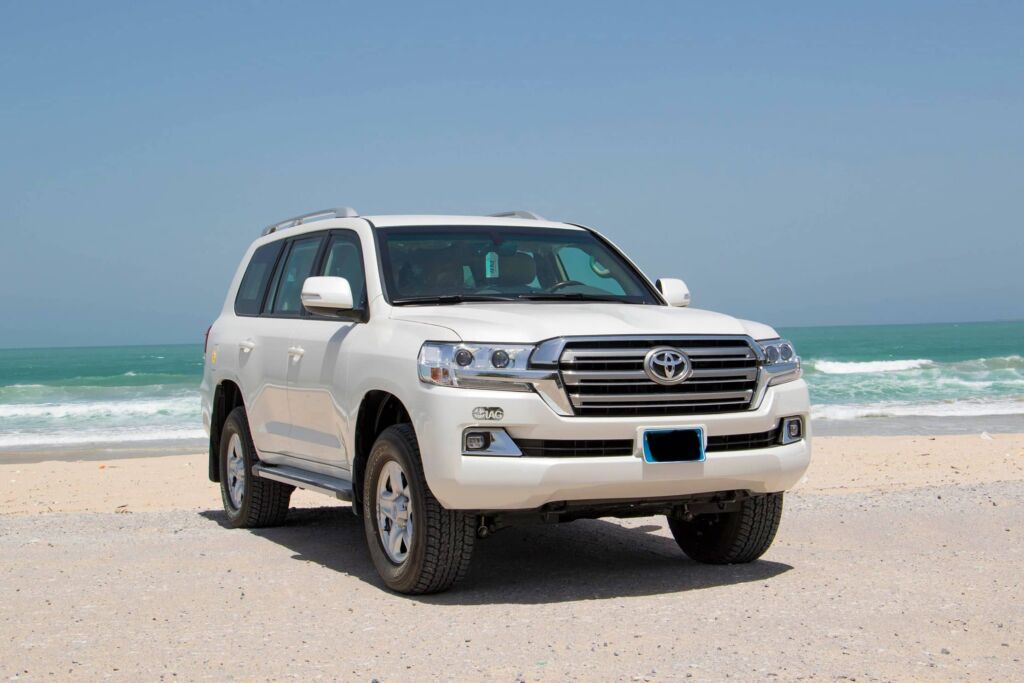 ENGINE variations
4.0L V6 Petrol (271hp/284lb-ft)
4.6L V8 Petrol (304hp/324lb-ft)
5.7L V8 Petrol (362hp/391lb-ft)
4.5L V8 Diesel (217hp/317lb-ft)
4.5L V8 Diesel (232hp/453lb-ft)
TRANSMISSION
5-speed M/T
6-speed A/T
The B6 armoured Toyota Land Cruiser 200 is a flagship product. Available in both left and right hand drive, this versatile 4×4 SUV is commonly used throughout the world. A wide variety of engine and transmission choices are available, ensuring every need is met. Titan security Europe will work with you or your client to meet there needs. Working every step of process to communicate with factory on your demands.
Armor design derived from BRV 2009 VR7 certified Toyota Land Cruiser Convoy®
• CEN LEVEL B6 / NIJ III Armor (will protect against 7.62 x 51mm NATO ammunition) • Certified floor blast protection against 2 x DM51, 1 x HG85 and 1 x DM31 available
Vehicle Armour on the Body of Vehicle
• B6 Armoured Land Cruiser vs Unarmoured OEM Land Cruiser • 100% Low profile and Indistinguishable
VEHICLE ARMORING: DOOR
• Smartarmor® Single Piece Armor design for entire length of sidewall
• Firewall armoured using large pieces of overlapped ballistic steel to minimise
welding points forming significantly stronger armoured firewall with no gaps
• Design acts as a roll-cage in case of a vehicle roll over and provides superior
blast protection
Door over lapping , Spall liner for bullet catching, this is inclusive within Dash and door sill.
Bulkheads and Doors
• Custom fabricated, heavy duty door panels by Titan to allow for full door overlap
• Optional upgrade includes heavy duty checkered steel kick plate
Interior
• Interior maintains full OEM look, fit and finish after armoring
• All electronic features retain full OEM functionality.
Updated Vehicle Engine Protection
B6 ARMOR PROTECTION FOR:
• Both engine wings (fenders)
• Both batteries
• Area behind headlights
• Engine Control Unit (ECU)
• Brake Master Cylinder
• Radiator Protection (optional)
SUSPENSION, BRAKE UPGRADES & RUNFLAT TIRES
Standard armored vehicle includes upgraded slotted rotors/discs
• Engineered-for-purpose heavy duty suspension system is installed with every vehicle,
including HD shocks, springs, rubber springs and reinforced mounting points
• All armored vehicles equipped with run-flat tires, enabling the driver to maneuver the
vehicle to safety even if the tires are punctured
OPTIONAL FEATURES
OPTIONAL EQUIPMENT:
• Ballistic Radiator protection with • additional intake fan and ram air scoop •
• Certified Blast protection against • anti-personnel land mines and IEDs •
• Heavy duty operable window actuators •
• Automatic fire suppression system •
• VHF and HF communication systems
Battery isolation/kill switch Heavy-duty, high output alternators Roof Escape Hatch
Public Address (P/A) system with siren Strobe lights
More options available upon request